At Cielo Spa Boutique in Santa Barbara, California, you'll discover customized skin care with results and embark on a routine of balance and renewal. Our Santa Barbara Spa provides the ultimate in facial and body treatments.
Open by appointment only. Scheduling appointments 7 days a week.
Spa days are always a treat and even better when shared with friends. Host a spa Gelty party at Cielo Spa Santa Barbara! Our space is available exclusively for your event, whether throwing a shower, celebrating girls' day, spending time with mom, surprising
your loved one with a spa date, honoring the bride with a bachelorette party, needing
a cozy space for wedding prep or simply breaking the traditional get-together by
socializing at the spa.
Our Santa Barbara Day Spa has won several awards. In 2015, Santa Barbara Independent readers voted us the "Best Day Spa" in Santa Barbara and "Best Place to Get a Facial" and were "Best Day Spa" runner-up in the 2015 Santa Barbara News-Press Readers' Choice Awards. In 2013 and 2012, Cielo Spa won "Best Day Spa" in the Santa Barbara Readers' Choice Awards. We are also on USA Today's "10 Best" list of best spas in Santa Barbara, California.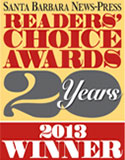 View this profile on Instagram