Cielo Spa Boutique, a boutique Santa Barbara day spa, welcomes you to a place of comfort and serenity. Your time with us will be a peaceful and soothing retreat into pure bliss. Our commitment to natural beauty assures the use of pure products that complement individual skin care and body care needs.
Our spa services include facials, massages, waxing, body treatments and more. We will provide balance and renewal working with products that use the finest ingredients, giving you an experience that is not only calming but healing as well.
Our spa is in a secluded location off State Street in Santa Barbara, California with private parking in the back.
We are open 7 days a week, by appointment only.
Unwind and relax as we work away your stress and relieve your tension. Our experienced Santa Barbara massage staff offers rejuvenating Swedish, deep tissue, pregnancy and couples massages. Close your eyes, take a deep breath, and enjoy as you experience a tranquil Santa Barbara massage.
60 MINUTES - $110 | 90 MINUTES - $145
A classic relaxing massage for those who enjoy light to medium pressure. This massage is best for increasing circulation, reducing stress, and relieving pain and tension. Ideal for those receiving their first massage.
60 MINUTE – $124 | 90 MINUTE –  $165
A massage treatment for those familiar with massage and those who request a deeper, firmer therapy. This massage focuses on specific areas to relieve deep muscle soreness and tension.
60 MINUTE - $125
Custom massage for expecting mothers. With a compassionate touch, we offer a treatment that alleviates pain and reduces stress. Treat yourself to a specialized pregnancy massage that supports you while your body supports your baby. Enhance your ability to relax deeply and be rewarded for all of your body's hard work. Pure bliss.
TWO SWEDISH MASSAGES | 60 MINUTE - $220
TWO DEEP TISSUE | 60 MINUTE - $250
ONE SWEDISH, ONE DEEP TISSUE | 60 MINUTE - $235
A divine massage experience designed for two. Couples can share in this glorious treatment in our larger space. Candlelight and fragrant oils accompany a deep full body massage creating a romantic environment you both can enjoy.
From an oxygen-infused facial to a fully customized facial, Cielo Spa Boutique offers soothing facials to help nourish the skin. Our Santa Barbara day spa is dedicated to providing a heavenly facial experience, so you can relax, enjoy, and rejuvenate in a place of comfort and serenity.
A results-driven treatment that will change the image of your skin in just one session. Vitamin C, Alpha, and Beta Hydroxy Acids, along with gentle yet effective enzymes speed up cellular turnover, lightening, tightening, and brightening all skin types. Suitable for Rosacea and sensitive skin.
60 MINUTE . . . $125
This treatment focuses on the needs of individual skin care and includes a skin analysis to design a facial appropriate for you. The Babor products used promote the natural activity of the skin and will complement any skin care needs. Our goal is to leave your skin feeling nourished and dreamy.
60 MINUTE . . . $110
This Luxurious treatment infuses oxygen, plant derived stem cells, peptides and high concentration of enzymatic botanicals into the skin leaving it luminous, refreshed and rejuvenated.
60 MINUTE . . . $125
Pamper your body with one of our rejuvenating Santa Barbara day spa body treatments. Our scrub is designed to exfoliate and stimulate the body's lymph system, while our mud treatment draws out toxins and impurities. Both soothe and moisturize, leaving your skin feeling heavenly.
Salt Scrub Body Treatment
A gentle but invigorating treatment designed to reach every pore, the Salt Scrub Body Treatment begins with a super soft body brushing to stimulate the body's lymph system, follows with a brisk salt scrub to purge impurities and ends with a soothing moisturizing from head to toe.
60 MINUTE . . . $115
Our Dead Sea Mud Treatment is rich in minerals, including potassium, magnesium, and calcium offering amazing skincare benefits. Warm compresses are applied and warm mud is massaged over your body, drawing out toxins and impurities. After being wrapped in a Mylar blanket, relax and feel the effects of this special mud treatment. Finish with a soothing shower and a light moisturizing treatment, leaving your skin feeling warm and comfortable.
60 MINUTE . . . $125
Make your Santa Barbara spa experience even more complete by adding an enhancement to your spa treatment experience. We offer two spa enhancements – an invigorating foot treatment and a tranquil luminous hair treatment – perfect additions to such a peaceful spa experience.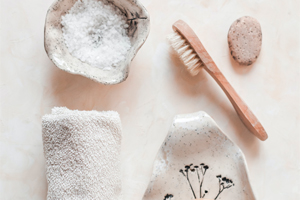 Exfoliating Foot Treatment
Olivina's olive based body scrub and body butter are used to exfoliate and energize your feet and sooth tired soles. A great complement to any spa treatment.
$35 
Our luxurious hair and scalp treatment lulls you into pure relaxation while cleansing, nourishing, and strengthening the hair, and providing hydration to the scalp. It is the perfect addition to any facial or massage.
$45
Contact us to add an enhancement to your Santa Barbara spa appointment:
Looking for a way to relax and rejuvenate? Spa packages offer the perfect way to escape and dedicate time to self care. Our peaceful, tranquil day spa sets the tone for pure bliss and our experienced therapists will help you to relax, so you can leave feeling refreshed and renewed. 
Next, enjoy a custom facial, created to improve your skin's clarity and leave you with radiant skin. A full body exfoliation follows, which will slough off dead, dull cells, stimulate circulation, and detoxify.
End your day with the Eifelfango Mud Treatment. Special mineral clay is used on your body to promote circulation and relax muscles. Warm compresses are applied and warm mud is massaged over your body, drawing out toxins and impurities, and leaving you feeling warm, supple, and relaxed.
A light lunch will be provided at the end of your treatment.
Pure Heaven Spa Package . . . $425
All treatments can be combined to create unique, custom packages.
Cielo Spa Boutique provides waxing services with great care and in a tranquil setting to ensure our clients feel as comfortable as possible. We do Brazilian waxing, and waxing for face and body. See below for pricing. We are open 7 days a week by appointment only.  
Our specialists offer stripless hard wax hair removal services using a beautiful blue hard wax called, Berodin Wax. The hard wax is a special product that removes hair as short as 1/16th of an inch and works perfectly on any part of the face or body. No strips are used in this hair removal process and it is ideal for even the most sensitive of skin. Our European hard wax has natural ingredients that are especially gentle and effective.
By adhering to the hair, not the skin, hard wax gently removes hair from most sensitive areas. Waxes can be re-applied on just waxed areas immediately without discomfort or irritator. Stripless waxing leaves skin smooth and residue free. This, combined with our no double dip policy, ensures an ultra-clean treatment.
Santa Barbara Waxing Prices
For your comfort please avoid the following:
Waxing 2 days before, or during menstrual cycle.
Tanning (sun or machine) before or immediately after waxing.
Abrasive cleansers, deodorants (underarm wax), or lotions on day of waxing.
Hygienic Waxing Policies
We like to educate our clients about the importance of skin care before and after treatments to enhance the long term effects of waxing.
We pride ourselves on providing a sanitary environment during every treatment. By strictly enforcing certain policies, we ensure a clean experience. We never double dip our waxing applicators during the process and always wear a glove to maintain a clean area. Cielo Spa specialists do not perform waxing treatments on any menstruating client.
After Care Treatment and Ingrown Hair Prevention Tools
We recommend three tools that will help prevent painful, ingrown hairs and improve the smoothness of skin. All treatments should be applied at least 48 hours after waxing. First and foremost, exfoliation is key to successfully avoiding ingrown hairs and maintaining a smooth skin surface. We recommend that you use a moisturizing cleanser that is effective in minimizing ingrown hairs and congested pores. An ingredient to look for in products is lemon tea tree oil which works as a naturally calming and repairing therapy for skin. Apply the cleanser to the treated area with our Exfoliating Mitts for best results. Mitts are made from natural plant fibers and gently remove the outer layers of dead skin, smoothing skin and removing trapped hairs that can result in painful ingrown hairs. Ingrown X-it Spray is a mild exfoliation spray that moisturizes and soothes irritated skin. Spray the product directly onto the treated area of your body and gently massage it in with clean hands, allowing your skin to absorb all of the product's benefits.
Contact us to book a waxing appointment:
Spa days are always a treat and even better when shared with friends. Host a spa party at Cielo Spa Santa Barbara! Our space is available exclusively for your event, whether throwing a shower, celebrating girls' day, spending time with mom, surprising your loved one with a spa date, honoring the bride with a bachelorette party, needing a cozy space for wedding prep or simply breaking the traditional get-together by socializing at the spa.  
Reconnect with friends or family while enjoying treatments that relax, refresh and rejuvenate. Nibble on nosh, bring in the bubbly, warm up with wine, clink your glasses with cocktails – the space is yours so be sure to make it a celebration. Unlike other spa parties, Cielo Spa allows you to take over the entire spa, creating a truly intimate spa party experience.
"I hosted a Bachelorette spa party at Cielo Spa and we LOVED having the entire spa to ourselves. We got facials and massages and I brought the bride's favorite champagne and food to share. Roxanne was so helpful. I was traveling to Santa Barbara from Atlanta – we coordinated everything via phone and email. She even helped me decorate and picked up things like balloons. We had a blast!" –Lynn Ross
Cielo Spa Boutique prides itself on its reputation for exceptional service. With group bookings you will experience the ultimate in pampering, enjoying a completely private space where you receive the undivided attention of our staff – the utmost in our exceptional service.
Whether you are planning a full day of pampering or a few hours getaway with the girls, we will ensure your spa experience is special. We will work with you to pre-select treatments from our menu that allows you the perfect balance of personal relaxation and group socialization.
Cielo Spa Boutique offers the exclusive use of our inviting space for up to 10 guests at no extra cost. We are conveniently located in downtown Santa Barbara and provide off street parking and a private entrance. An intimate venue that can be exclusively yours.
Open by appointment only. Scheduling appointments 7 days a week.